The history of golf courses in Johor Bahru dates back to the early 1900s when British colonial officials introduced the sport to Malaysia. The first golf course in Johor Bahru was established in 1914 by the Royal Johor State Government, and it was known as the Royal Johor Country Club.
Over the years, several other golf courses were built in Johor Bahru to cater to the growing popularity of the sport. One of the most prominent golf courses in the region is the Tanjong Puteri Golf Resort, which was established in 1993. The resort is home to two championship courses, the Plantation Course and the Village Course, both of which offer spectacular views of the surrounding landscape.
Another popular golf course in Johor Bahru is the Horizon Hills Golf & Country Club, which was designed by renowned golf course architect Ross Watson. The course features undulating fairways, challenging bunkers, and stunning views of the Johor Bahru skyline.
In recent years, there has been a surge in the development of golf courses in Johor Bahru, with several new courses being built to meet the demand of both locals and tourists. Today, the city boasts some of the best golf courses in Malaysia, with facilities and amenities that rival those found in other golfing destinations around the world.
Horizon Hills Golf & Country Club
Horizon Hills Golf & Country Club is located inside Nusajaya on a 1200 acre site. For residents there, golf and country clubs have become the center of their entertainment.
Getting here is easy as it is accessible via the Skudai Expressway, Perling Expressway, and the North-South Highway.
The $10 million course was designed by renowned Australian golf course architect Ross Watson, who has won international acclaim for his course designs.
It's a $17 million architectural marvel designed by by Ernesto Bedmar, an Argentinian architect of no mean repute.
Five-star facilities for guests and residents. There are fine dining and lounge areas, a sports hall with equipment, a pro shop, a grand ballroom for large events, and tennis courts.
An Olympic-sized swimming pool.
The Club offers reciprocity and partnerships to golfers from other clubs.
Horizon Hills Golf & Country Club
Address:
Lot 1302, Kebun Sedenak, 81000 Kulai, Johor, Malaysia
Tel: +607 – 232 3166
Fax: +607 – 232 3919
2.The Legends Golf & Country Resort
When you hear that the legendary Jack Nicklaus and Arnold Palmer have designed a golf course together, you have to stop and look at it, and maybe go there and try it, because it must be a great course. Will not disappoint at Legend Golf Johor. An unparalleled golf resort setting is what you'll find legendary here.
A 40-minute drive from Singapore via Tuas 2nd Link to Legend Golf Johor. The almost rural setting gives the feel of a real country club. Situated on 1,200 acres, the resort offers the dream of a golfing experience.
After careful planning and design, The Legends courses is what golfers seek; Challenging, involved, scenic, peaceful.
Clubhouse: The clubhouse is 110,000 square feet and takes up several floors. The terrace for the outdoor feel and an excellent Chinese restaurant where relaxation is guaranteed.
The clubhouse also features a banquet hall for corporate and private events, as well as a high-quality sauna for relaxation.
The Legends Guestrooms: You can choose from 32 unique Asian style rooms. Depending on your needs and budget, you can choose from five types of rooms. All rooms are air-conditioned.
There is also an equestrian center for equestrian enthusiasts.
The Legends Golf & Country Resort
Address: Lot 1302, Kebun Sedenak, 81000 Kulai, Johor, Malaysia
Tel: +607 – 652 4388
Fax: +607 – 652 6388
IOI Palm Villa Golf & Country Club
A few minutes from Senai International Airport and 28km from Johor Bahru city centre, you can reach IOI Palm Villa & Golf Resort
The 27-hole course is housed within the IOI Development Complex, which offers a package of services for both residential and non-residential players. There are plenty of facilities and space to accommodate both professional golfers and amateurs.
Putra Course, Palm Course and IOI Course are 9 hole courses where you can tee off. This gives you the feeling of having three different courses right in one golf club.
The palm trees lining the fairways give you a real sense of playing in the tropics all year round.
Other amenities include a world-class pool to cool off after a day of green space.
IOI Palm Villa Sports Complex adds clubhouse amenities. There are swimming pools, tennis courts, gyms and other sports venues.
Ginza Health Spa: With highly trained and experienced staff, massage parlors, saunas and Jacuzzis allow you to relax.
IOI Palm Villa Golf & Country Resort
Address:PTD 44500, Jalan Indah Utama, Bandar Putra, 81000, Kulai Jaya, Johor, Malaysia.
Tel : +607 – 599 9099
Fax : +607 – 598 8101
4.Senibong Golf Club
For golf enthusiasts from Singapore, Senibong Golf Club (formerly known as Porresia Golf Club and Resort) offers the closest greens to Singapore on the Johor coast.
Just 30 minutes from Singapore to Senibong Golf Club, via the second link Tuas Checkpoint, golfers travelling during the day will have easier access to the golf course than anyone else travelling further inland.
The golf course at Senibong Golf Club is an 18-hole championship course that offers a challenging and exciting game for golfers of all skill levels. The course is designed to provide a balance of risk and reward, with a variety of different challenges, including strategically placed bunkers, water hazards, and undulating fairways.
In addition to the golf course, Senibong Golf Club also offers a range of other amenities, including a driving range, a clubhouse, a pro shop, and a restaurant. The clubhouse features a luxurious design, with modern facilities and comfortable seating areas. The pro shop offers a wide range of golfing equipment and apparel, and the restaurant serves delicious local and international cuisine.
Overall, Senibong Golf Club is an excellent destination for golfers who want to experience a challenging and enjoyable game while enjoying the beautiful surroundings of Johor Bahru. Whether you are a seasoned golfer or a beginner, you are sure to have a great time at this exceptional golf course.
Senibong Golf Club
Address: KM 36, Mukim Tanjung Kupang, 81550 Gelang Patah, Johor, Malaysia
Tel: +607-596 4211 (Malaysia)  / +65-6734 3733 (Singapore)
Daiman 18 Golf Club
Daiman 18 Golf club is one of the most popular golf clubs for non-members who want to tee off in Johor Bahru. It is situated on the scenic Pasir Gudang-Johor Bahru Highway in Johor.
In addition to Golf, you can find a great place to relax and entertain at the Daiman 18 Golf club.
An aesthetically pleasing and well-designed clubhouse to support the golf function.
Non-members of the culture are welcome, especially those from the city, Malaysia and Singapore opposite the Causeway.
Daiman Johor Jaya Sports Complex: A well-designed sports complex to complement golf is always a popular golf club. The resort maximizes this effect by opening its sports complex to the public, rather than making it look like a distraction for golfers and their families and friends.
The sports center features an Olympic-sized swimming pool.
There are extensive badminton courts, as well as diving and other sports classes.
Daiman 18 Golf Club
Address: LOT 115-630, Jalan Ros Merah 4/1, Johor Jaya, 81100 Johor Bahru, Johor, Malaysia
Tel: +607 – 351 6813
Fax: +607 – 351 6823
Ponderosa Golf & Country Club
Playing golf at Ponderosa Golf & Country Club is not only fulfilling and therapeutic, it's also an experience as you'll be playing in the tropical greenery around you. Other amenities make it more than just a modern golf and country club.
The driving range at the club is the main attraction. This is where you can learn golf and hone your skills. A resident golf pro will help you. There is a children's program where your child will learn the basics of golf and lead them to become the next golf pro.
The MST pro-shop offers a wide range of golf gear options from premium and mid-range brands. There are usually promotions and stock clearances that you can look forward to.
While accommodation does not enter the hundreds of rooms, What Ponderosa Golf and Country Club offers all 16 rooms that will rival the best accommodation in Johor Bahru. The Lodge is a 2 level facility with all amenities including parking, mini bar and free WiFi. If you are staying here overnight, we will arrange catering for you.
Dine at Golfers Terrace, the Cantina Café and the classy Hop Sing Restaurant, where you can sample authentic Chinese cuisine prepared by the two resident chefs.
Ponderosa Golf & Country Club
Address: No. 3, Jalan Ponderosa 1, Taman Ponderosa, 81100 Johor Bahru, Johor, Malaysia
Tel: +607-354 9999
Fax: +607-355 7400
Starhill Golf & Country Club
It is a country club offering a world-class golf experience and special recreation and fitness facilities. They pride themselves on providing personalized service to all their guests.
The Starhill Golf Johor is located just outside Johor Bahru, the golf and country club is easily accessible from the North-South Highway by exiting from the EDL Highway at the CIQ. The Starhill Golf & Country Club is just 30 minutes across the city centre from the Singapore Causeway.
Starhill Golf Course is the only 36-hole all-playable golf course in the world.
The club offers reciprocal treatment to golfers from other clubs.
The 36 holes are shared between the Bintang course and the Bukit course.
The restaurants and leisure facilities are superb. The Hilltop restaurant, whose doors are open to the public, prepares delicacies to satisfy local and international guests. Delicious food (local, Western, Japanese and Chinese) is complemented by unique service and elegant atmosphere. Lobby Lounge offers you drinks and a relaxing day on the fairway.
The Starhill Golf & Country Club Water Park is available for family or group Tours.
The clubhouse sits on top of a hill overlooking the green field. It flies first class.
There's a Japanese jacuzzi in there for relaxing.
Function rooms allow for meetings and functions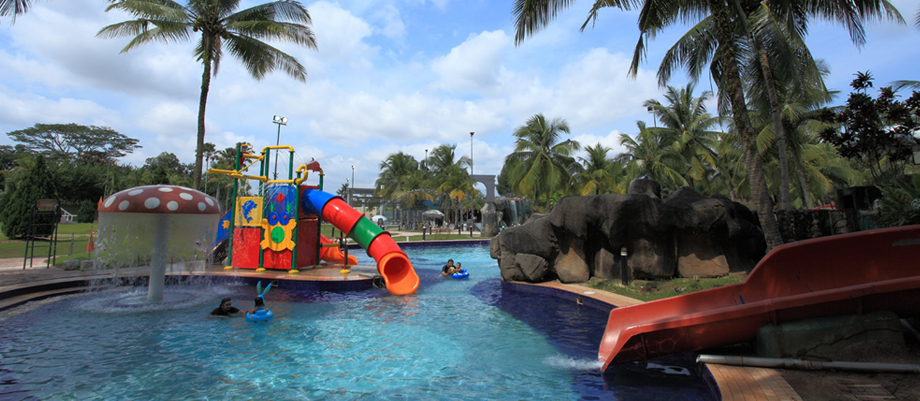 Starhill Golf & Country Club
Address: KM6.5, Jalan Kampung Maju Jaya, Kempas Lama, 81330 Skudai, Johor Bahru, Johor, Malaysia
Tel: +607 – 558 8111 / +607 – 556 4102
Fax: +607 – 557 8267